Clickbank Products
Inspection Key to Stopping Formosan Termites
by Russ Frank
"The Formosan subterranean termite, Coptotermes formosanus Shiraki, is one of the most destructive termite species in the world today."
In 1991, the city of Tampa, Florida first discovered Formosan subterranean termites near Tampa International Airport. Eight years later - 1999, they were discovered in nearby Temple Terrace as well. Not long after, a termite inspection discovered them in a warehouse in South Tampa. In 2003, a termite inspection discovered them on Harbor Island, near downtown Tampa.
There is little doubt that new Formosan colonies are being formed in Tampa and around Florida. They are multiplying more quickly than they are being detected. Therefore property owners must become more vigilant. Frequent inspections and immediate treatment by trained professionals must be implemented to protect their homes and buildings. These are the only protection against the slow silent Formosan termite invasion.
All coastal communities across Florida and the Gulf Coast are at risk from Formosan subterranean termites. Tampa is just one example. These termites have now been found in at least 14 other Florida counties. Once Formosan termites become established in an area, it's very difficult, some would say impossible, to eradicate them.
In New Orleans, where more than 90% of the buildings in the French Quarter are infested, Formosan termites are responsible for $300 million annually for control and repair costs. In the state of Hawaii, they are considered the single most economically destrructive insect pest.
A typical Formosan termite colony has a gigantic appetite. Experts say the average native subterranean termite colony can consume around
7 pounds of wood
per year. On the other hand, a Formosan colony can ingest more than
1,000 pounds of wood.
To understand the difference, look at the size of the colony.
Colonies of Formosan termites can number more than 10 million termites. Colonies of native subterranean termites often are less than 1 million termites.
Formosan termites also attack a much wider array of food sources, such as furniture, books and even living trees. They can be extremely persistent in finding a way into buildings. Unlike other types of termites, they can chew through thin lead, copper sheeting, PVC, foam insulation boards, plaster, asphalt, rubber, and some plastics to find wood. They can find even the smallest (1/16") cracks through concrete.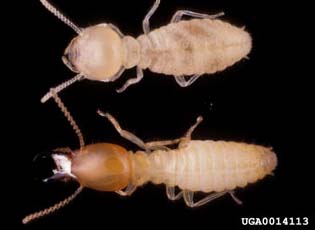 Adults, worker (top), soldier (bottom)
Photo by Gerald J. Lenhard
Can these termites be controlled, or better yet, prevented? And what are the best methods to use?
While fumigation, or tenting, can be effective against drywood termites, Formosan colonies aren't seriously affected by fumigation because they have both underground and above ground nests. They will lose some workers, after tenting, but eventually the termites return. For this reason fumigation should never be the primary method of treatment for Formosan subterranean termites.
Termite bait stations work by attracting termites and then feeding them poisoned bait. Bait stations have been around since the mid 1990's. Bait stations are highly effective when in the hands of a trained professional. Over the years bait stations have proven extremely valuable, and become the primary method of protecting and treating properties from Formosan termites.
The entire Gulf Coast, including the coast of Florida is either currently under attack from, or a potential target of Formosan subterranean termites. The only defense consists of annual termite inspections by professionals and underground bait stations monitored by professionals.
The Formosan termite colonies have been found in eleven states. If you have any doubts about whether termites can be a problem for your home and property, call a local termite inspector now.
About the Author:
Termite protection is less expensive than termite damage. Russ Frank, owner of Florida Bug Inspectors, is now offering a complete
termite control
and protection plan, beginning with a
professional termite inspection
.
---
News and Videos about Termites

Fatal error: require_once(): Failed opening required '/home/aldouspi/carp/carp.php' (include_path='.:/usr/lib/php7.0') in /homepages/38/d652468890/htdocs/clickandbuilds/pestbattle.com/formosan-termites-florida.php on line 808