Clickbank Products
Dealing With Barking Dogs
by Jack Pointer
"When you neighbor's dog keeps barking late at night or all day long, what do you do?"
If you are the neighbor of a barking dog, there are steps you can take to keep your neighborhood peaceful.
But before we look at actions you can take to get your neighbor to take care of their dogs, consider these points:
Is this a new or very young dog? New dogs can take a few weeks adjusting to their environment. They may quiet down, naturally, as they get used to the routines of the neighborhood.
A second point is that the dog owner may not realize that his dog is bothering other people. The owner may also think that the barking the dog does is not loud enough to reach beyond the boundaries of his house or yard.
Keep these considerations in mind when you do need to take action. You will be in a better frame of mind in a situation which will be a little bit uncomfortable for both you and your neighbor.
If you are on good terms with you neighbor and have easy access, try contacting the dog owner and ask them to do something about the problem. The owner may not be aware of the issue and will stop the barking right away.
Of course, if you do not want to confront your neighbor directly or, perhaps, the dog owner is gone all day or is otherwise hard to reach, you can contact a local authority and request them to check on the problem.
Depending upon where you live there are normally two agencies you can ask to look into the problem. One is your local humane society, the second is your city or county animal control department. Call either agency and provide them with the name and address of the pet owner. They will also want your name and address, too, for their records. And they may want to know when the problem occurs. So it is a good idea to keep track of when the dog is disturbing people - the time of day and how long the barking goes on.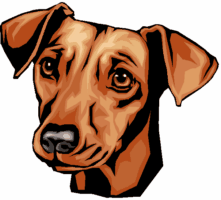 Sometimes when dogs are sad they bark...
Typically a letter from the humane society is sent to the pet owner and this takes care of the barking issue. And you can get a good night's sleep or stop worrying if the dog is okay...
However, if the barking dog continues to bark, you will have to call the humane society or other agency again. This time a complaint will probably be issued, and an officer will deliver it to the dog owner.
In some jurisdictions, an official protest must be signed by households within a practical distance of the dog owner. That means you will need to get some of your other neighbors to acknowledge the problem in writing before a complaint is delivered to the owner of the nuisance dog. If the owner then fails to do something about the barking, he or she might have to appear in a court.
Typically this is the end of the matter. By the way, if you are a dog owner as well, make sure your dog is well-behaved. Is you dog barking a little too much? Steer clear of any unpleasantness for your neighbors and yourself with some easy and sensible training for your dog.
If you are having dog behavior problems or have a new dog to train, I recommend you get a copy of
The Dog Tutor.
It is an excellent training resource.
The bottom line is this. If you are unlucky enough to be the neighbor of a barking dog, remember that you can do something about it. There ought to be a law, and there is!

About the Author: For more pet health information click the Pet health blog.

---
News about Barking Dogs